Charleston's tight-knit Iranian community celebrates Persian New Year with food, tradition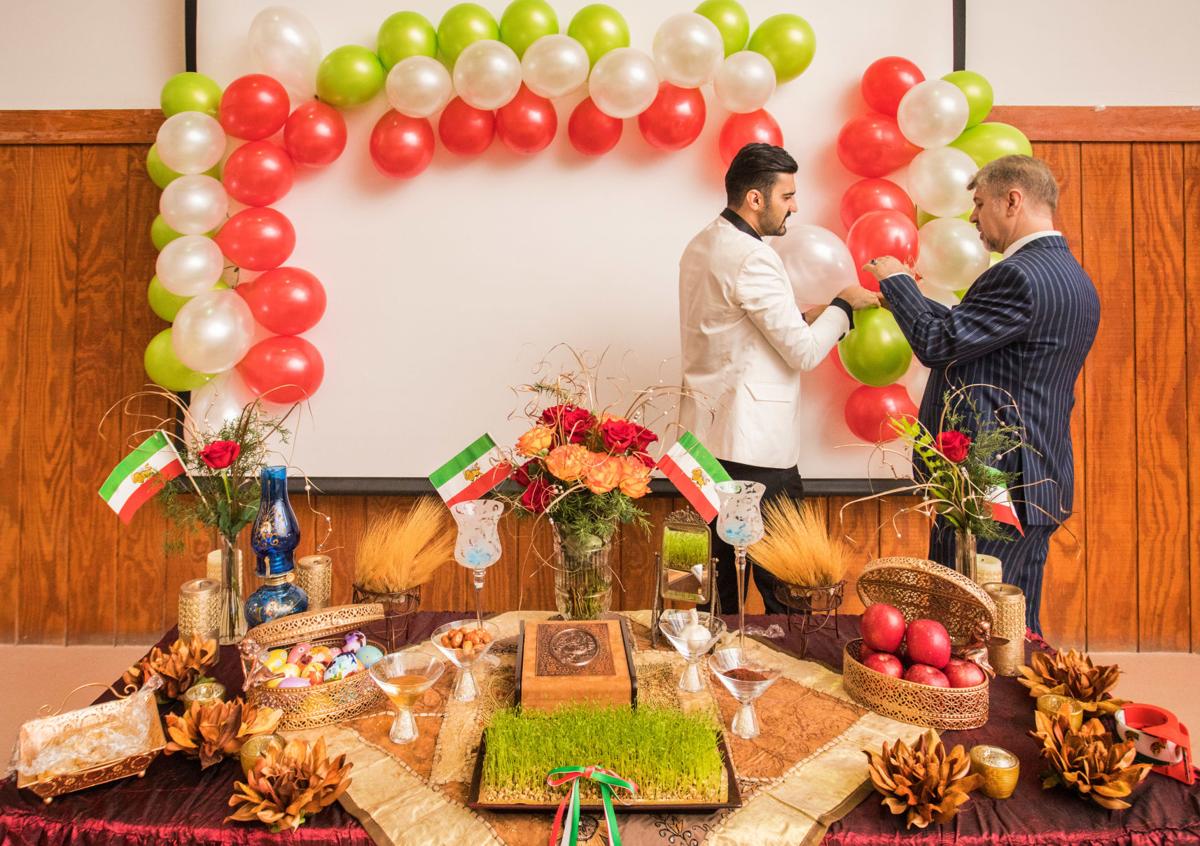 There was dancing, of course, and a fish on every table. And an impressive spread of food that scented the air with the exotic smells of saffron and spice. Friends and family members dressed in suits and sparkles gathered around Edisto Hall at James Island County Park to celebrate Nowruz, the Persian New Year that takes place each spring. This year, it was officially March 20.
Charleston is home to a small but tight-knit Persian community, with some friends and family traveling here from North Carolina, Georgia and Florida for the celebration. Persians are the ethnic majority of modern-day Iran, an ancient civilization that has been marking the beginning of spring for thousands of years with Norwuz, a holiday that is neither religious nor political, so it is celebrated by Persians across the world.
"Dancing is a huge part," said Nasser Razmyar of Saffron Restaurant, which catered the party. "Everybody gets together and comes and sits. We only see each other once a year. Then is the time to eat. After eating, never miss the dessert and the famous cream puff. After dessert, there is hot tea and after that is the dance. There is dancing until midnight." Razmyar was not shy in claiming to be the best dancer of the bunch.
After everyone greeted each other and visited for a bit, the first round of feasting was announced. In line for the huge buffet, Jafar Moghadam smiled when I asked him if he was wearing brand-new clothes, something he'd told me was a tradition on the phone earlier in the week. He shook his head and said, "Here in the U.S., we modify everything." Which explains the free flow of wine, cognac, beer and even tequila at the party, which felt like a lot like a multigenerational American wedding, save for the Persian music and Haft-Seen table that was set up on the stage at the front of the room.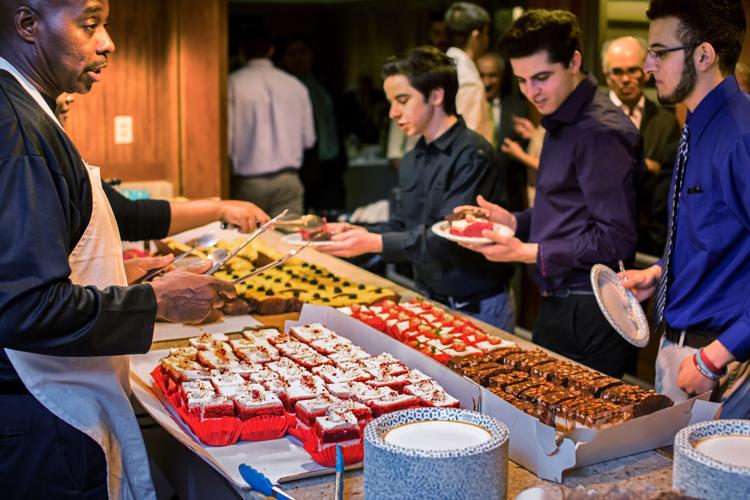 The Haft-Seen table looks like an altar and contains seven symbolic items beginning with the letter "s" (or "seen" in Farsi). There was garlic (seer), sprouted beans (sabzeh), vinegar (serkeh), apple (seeb), sumac (somaq), coins (sekkeh) and olives (senjed). Unfortunately, there wasn't any samanu, a sort of custard or pudding made from sprouted wheat that takes days to prepare and requires hours of constant stirring. Moghadam's wife Maryam Nikou said in cities with larger Persian populations you can find it pre-made, but not in Charleston.
The table was festooned with traditional dolls, mirrors and candles to represent brightness and light for the future. And then there were the fish. The goldfish, darting about in small plastic wine cups on every table, are such a big part of Nowruz that animal activists in Iran have been condemning the practice, claiming in one campaign that 5 million goldfish are sacrificed each year. Whether or not that's true, I have a feeling about 50 found their way to the great sewer in the sky after Saturday night's party.
Moghadam first came to America as a college student in 1970 and returned to Iran for a spell until finally returning and settling in the Charleston area, where his brother had attended The Citadel and still lived. "Persia is so diverse," he said. "I am from the north part of Iran, Bandar-e Anzali on the Caspian Sea, where they have the best caviar."
Unfortunately, at this Nowruz celebration there wasn't any Iranian caviar. But there was plenty of other classic Persian fare: mounds of basmati rice, lots of saffron spice, stews made with a heavy dose of fresh herbs, dried limes and sour berries, and heavily spiced chicken drumsticks.
Saffron, owned by the Aghapour family, has been hosting and catering this event for years. Amir Kayhani, who's father is Persian and mom American, said he's been coming to this event off and on for years. "It's seems like it's getting bigger," he said. He was looking forward to eating food he rarely gets to eat except at Nowruz, like gormeh sabzi and gheymeh.
Like Thanksgiving, certain dishes appear at every Nowruz celebration. Ash reshteh, a thick noodle soup that symbolizes health and longevity, commingles noodles, beans, onion, pepper, saffron and plenty of green herbs into a luscious stew.
Another traditional dish is fish and rice. Nasser Razmyar of Saffron said, "It's very common to have basmati rice with parsley (sabzi) with fish. Whitefish is the traditional food but since we don't have access, we serve it with salmon."
Rice is abundant. In addition to the sabzi polo (think pirlau) made with tons of fresh green herbs, there was saffron rice and zereshk polo, a traditional celebration rice that highlighted the Persian love of sour flavors. Made with dried barberries (zereshk) and plenty of saffron, it is served at every wedding and Persian celebration throughout the year.
Lamb is featured prominently in the gormeh sabzi. "One of the best stews," said someone ahead of me in line. A gravy, turned green from copious amounts of cilantro, parsley and other herbs, was dotted with chunks of lamb and specks of beans and was meant to be eaten over the saffron rice.
My favorite dish was gheymeh bademjan, a rich eggplant and yellow lentil stew with turmeric and lamb thrown in for extra savoriness. Of course, this being America, a huge pan of macaroni and cheese waited for the kids to dig in.
Another large table held cold dishes. The first had feta cheese and sabzi, which is basically a pile of fresh herbs like basil and cilantro along with spring onions and radishes. They are meant to be eaten with the other dishes to add texture and flavor along the way. Mixed pickles, shirazi salad (cucumber, onion, tomatoes, olive oil and lemon juice) and mast-o khiar, the Persian version of tzatziki with cucumber, dill and yogurt but no garlic, and hummus with puddles of olive oil rounded out the cold table offerings.
Razmyar had warned me that there would be about four dozen Iranian pastries, perhaps an exaggeration, but the dessert spread was indeed impressive with a variety of cakes from Saffron bakery. The most traditional dessert was sholeh zard, a saffron rice pudding made with rosewater, sugar and cinnamon.
Moghadam said that everyone always takes a plate or two home at the end of the night because there is so much. As dessert wrapped up and the dance floor filled, Hamid Askarian, my host for the evening, went back to the buffet and piled two plates high with desserts and handed them to me with a smile, urging me to top it with another plate and take it home. Across the table, Jafar and his wife were putting plates of sweets in a grocery bag and told me that it was what everyone always did. So as Razmyar took over the dance floor and Askarian whistled his enthusiasm, I took my leave, juggling the two plates of desserts they insisted I take.